Description
• NEW Super Competitive Pricing!
• NEW anti-screen cracking EVA foam cushion design
• NEW Spacious exterior zipper pocket designed specifically to eliminate chargers or other accessories from applying too much pressure on the screen
• NEW Hard plastic lining on both sides of case to protect device
• No need to remove the device from the case to view an asset tag or barcode thanks to the built-in clear asset tag window
• Ultra durable zippers designed to last the intense wear and tear of K12 students • Made with lightweight water-resistant nylon
• Wide edge design to provide cushion and shock absorption upon impact • Seamless and unobstructed access to charging ports and headphone jack - zero pressure on charging cable while plugged into the device wearing our case
• ID Card Holder for student name tags or labeling • Shoulder Strap included at no additional cost
• 10 Year Warranty
• Two firm nylon straps built into the interior of the case keep the Chromebook screen up right at all times even when the pocket is weighed down with accessories or adapters
• Anti-slip lining and 1.5" nylon corner straps keep the device 100% secure
• Anti-slip pads on the bottom of the case to keep it from slipping
Shipping & returns
If for any reason you are not completely satisfied with your product, we offer a full refund less shipping. Send us an email, give us a call or just message us through our chat at the bottom right hand corner of this page. We take all the risk out of ordering by offering an unmatched satisfaction guarantee. We'll always do our best to take care of you.
Why buy from us
Every product that NutKase creates is designed right here in Rome, Italy. At the core of our products lies our philosophy: high quality cases, but with a fair price. We want to stop you paying insane prices for average quality cases, or be fooled into buying cheap, poor quality knockoffs. When you buy a NutKase you are buying quality, protection, and design, directly from us. The lack of middle men, distributors, or retailers lets us maintain our famous high quality, yet provide you with a fair price.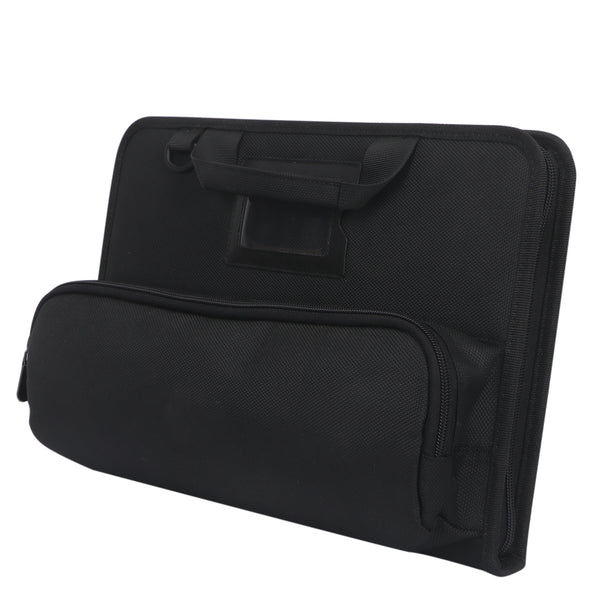 NK Rugged Nylon Pro Big Pocket for 11" - Black